Australia's second-busiest airport in its fastest-growing city now has a new lounge courtesy of American Express.
The design is pretty consistent with the one other American Express lounge currently operating in Australia, which is located in Sydney's International Terminal.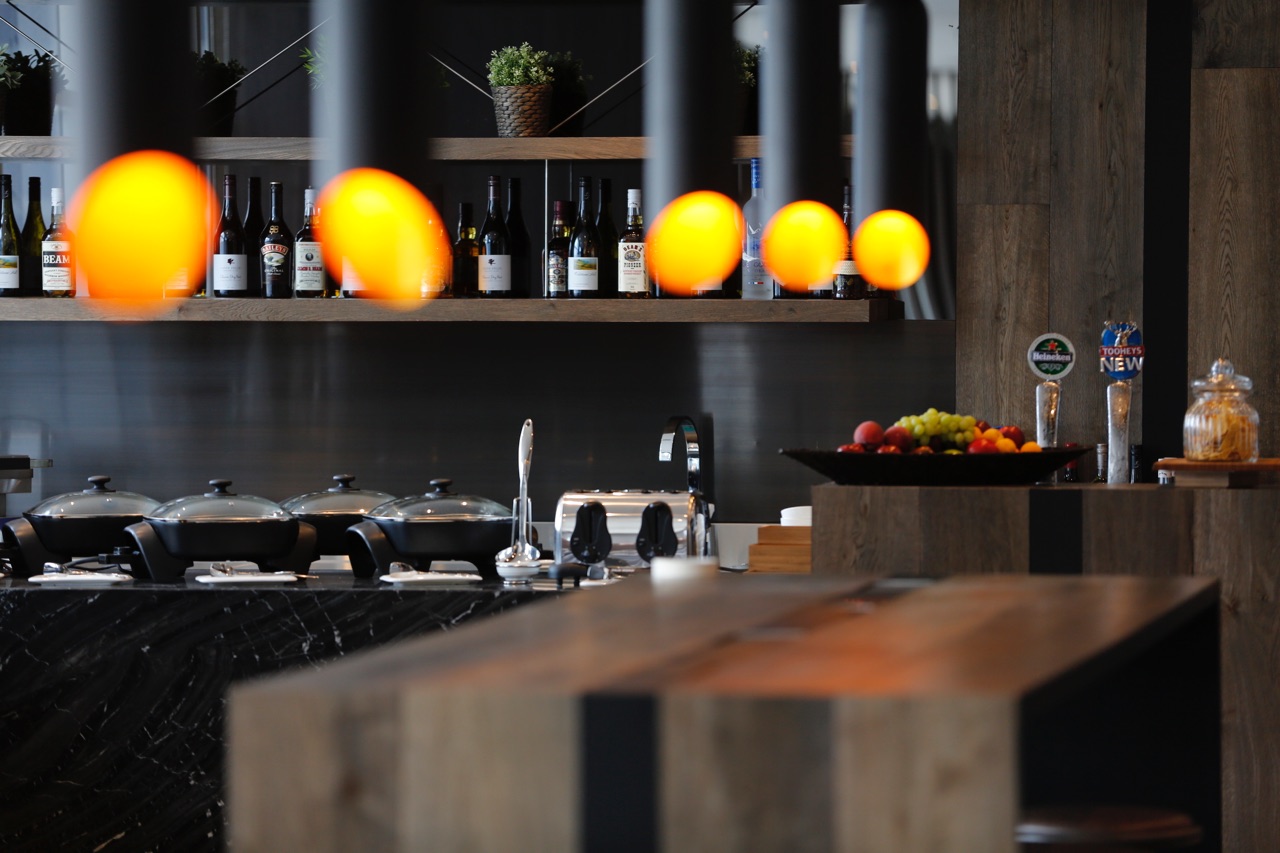 The Point Hacks Team were lucky enough to be invited for a first look at the lounge. Both the American Express Platinum Charge and American Express Airpoints Platinum offers you access to the lounge, which is a really solid perk, so for Kiwis travelling through or from Melbourne Airport for international trips, this is a nice benefit.
About this guide
American Express has a network of well-designed Centurion Lounges, which some Amex cardholders have access to on an unlimited basis.
You can usually enjoy access to these lounges for free with any same-day ticket, on any airline, as long as you are an American Express Platinum Charge, Business Platinum Charge or Centurion cardholder. Some other American Express cards offer a certain number of lounge passes each year too.
Essentially, these lounges are an alternative for Business and First Class passengers who do not want to access (generally sub-standard) US lounges, such as American Airlines Admirals Clubs.
However, as their popularity has grown due to Amex increasing its cardholder base and the offering of superior food and facilities, they may be becoming a victim of their own success.
Having said that, with an increasing number of lounges cropping up, if you're flying Economy or Premium Economy frequently and value lounge access, using the American Express lounge network can free you from the likes of paid membership programs like Qantas Club and Koru Club.
---
Locations
The Amex lounge network is of course not as broad, and not available in as many cities as more traditional airline lounges. For example, there is currently no Amex lounge in New Zealand.
As of April 2018, there are 17 Centurion Lounges across the network, with two in Australia, one in Hong Kong, eight in the US, four in Latin America and two in India.
The lounges in Australia and the US are the most modern, with the Philadelphia lounge the latest addition to the offering; Los Angeles, Denver, and JFK are slated to open next.
Those lounges in bold are reviewed in more detail later on. Note that depending on the country, each lounge type has a different name.
American Express Lounges in Australia
Centurion Lounges in the United States
Dallas/Fort Worth
Denver (opening date not confirmed)
Houston
Las Vegas
Los Angeles (opening date not confirmed)
Miami
New York LaGuardia
New York JFK (opening early 2019)
Philadelphia
San Francisco
Seattle
Centurion Lounges in Asia
Platinum Lounges in India
The two lounges in India are smaller than those in the rest of the network and can get crowded as they are shared with Jet Airways Business and First passengers. There is complimentary food off the menu, but you need to pay for alcoholic drinks.
Centurion Clubs in Latin America
The American Express lounges outside of the US and Sydney are generally a few years older and don't have the same design aesthetic and facilities.
The 24-hour lounge in Buenos Aires, Argentina is the biggest of them all in Latin America. The other three lounges are located in Mexico, with Toluca serving as Mexico City's low-cost airport.
Buenos Aires
Mexico City
Monterrey
Toluca
Amex used to run two lounges in Sao Paulo and Rio de Janeiro, but these seem to have been taken out of the network, according to the Centurion website.
---
What's on offer
Food and wine, beer and spirits, usually complimentary in the US and for purchase elsewhere
WiFi
Shower suites
Family room
Workspaces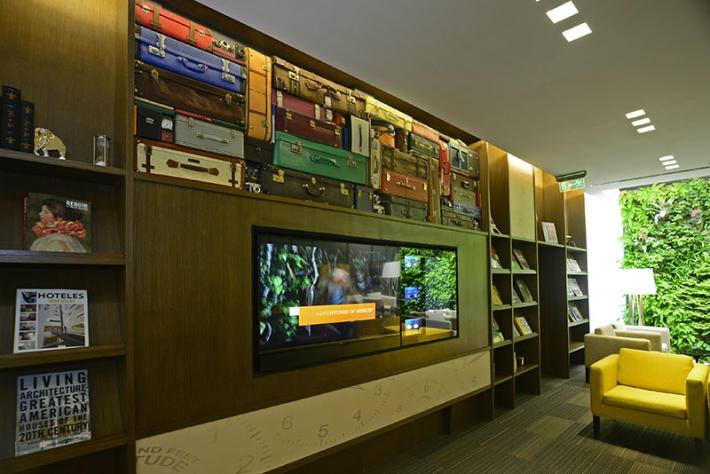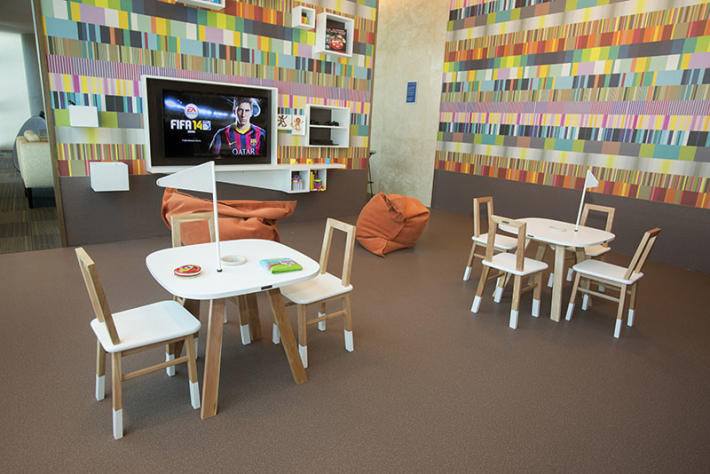 Depending on the location, lounges usually open between 5 and 6am and close between 8pm and midnight.
---
Key lounges in the US
Centurion Lounges are much nicer than those offered by a US airline, but inferior to many lounges in Asia.
San Francisco
The Centurion Lounge at SFO is located after security in Terminal 3, which conveniently connects to the International Terminal. So if your departing flight is from Terminal 1 or 2, whilst you can enter any terminal you like, make sure that you allow enough time to clear security again in your respective terminal.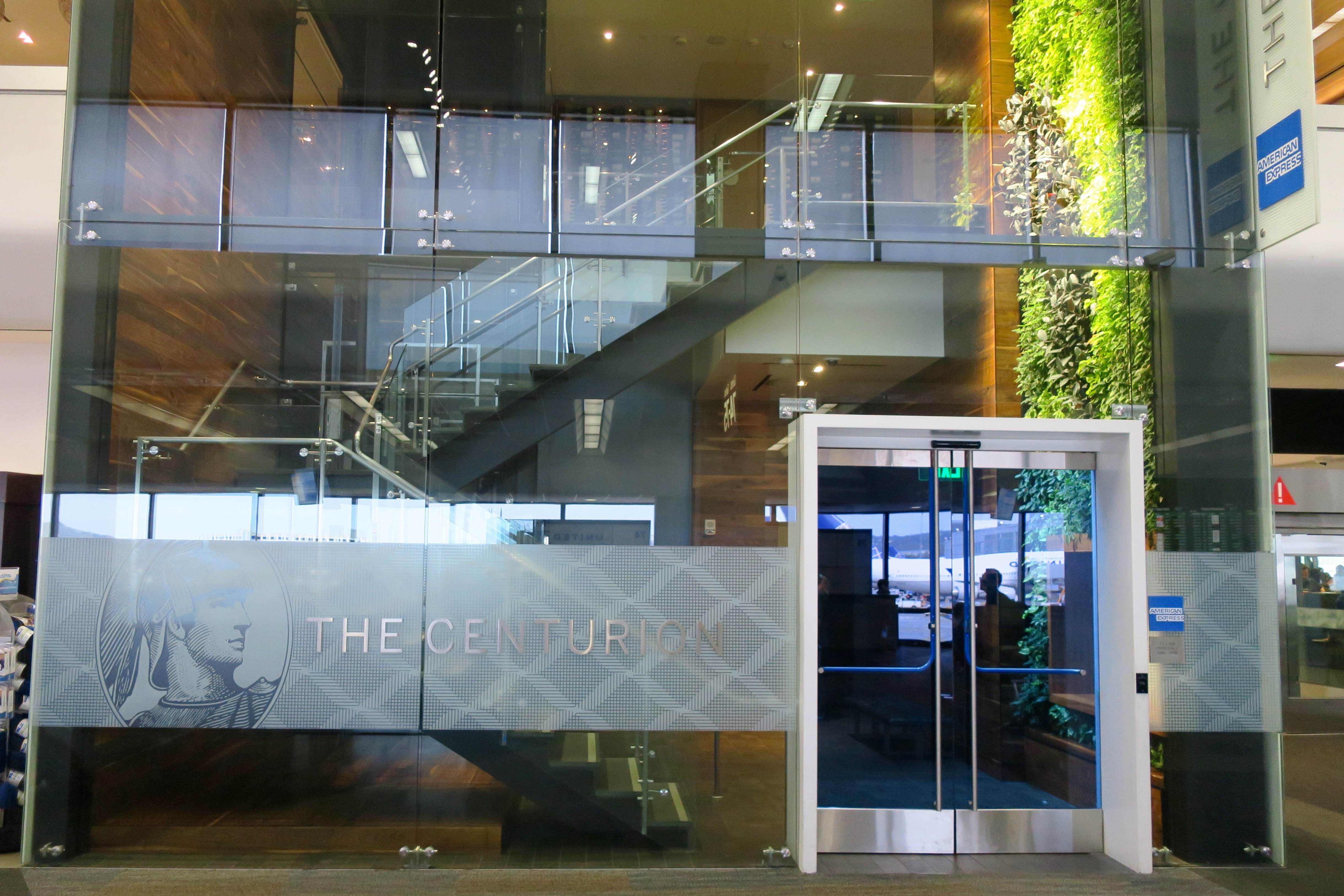 It has Californian-inspired food and local Anchor Steam, Sierra Nevada, and Brew Free or Die beers on tap.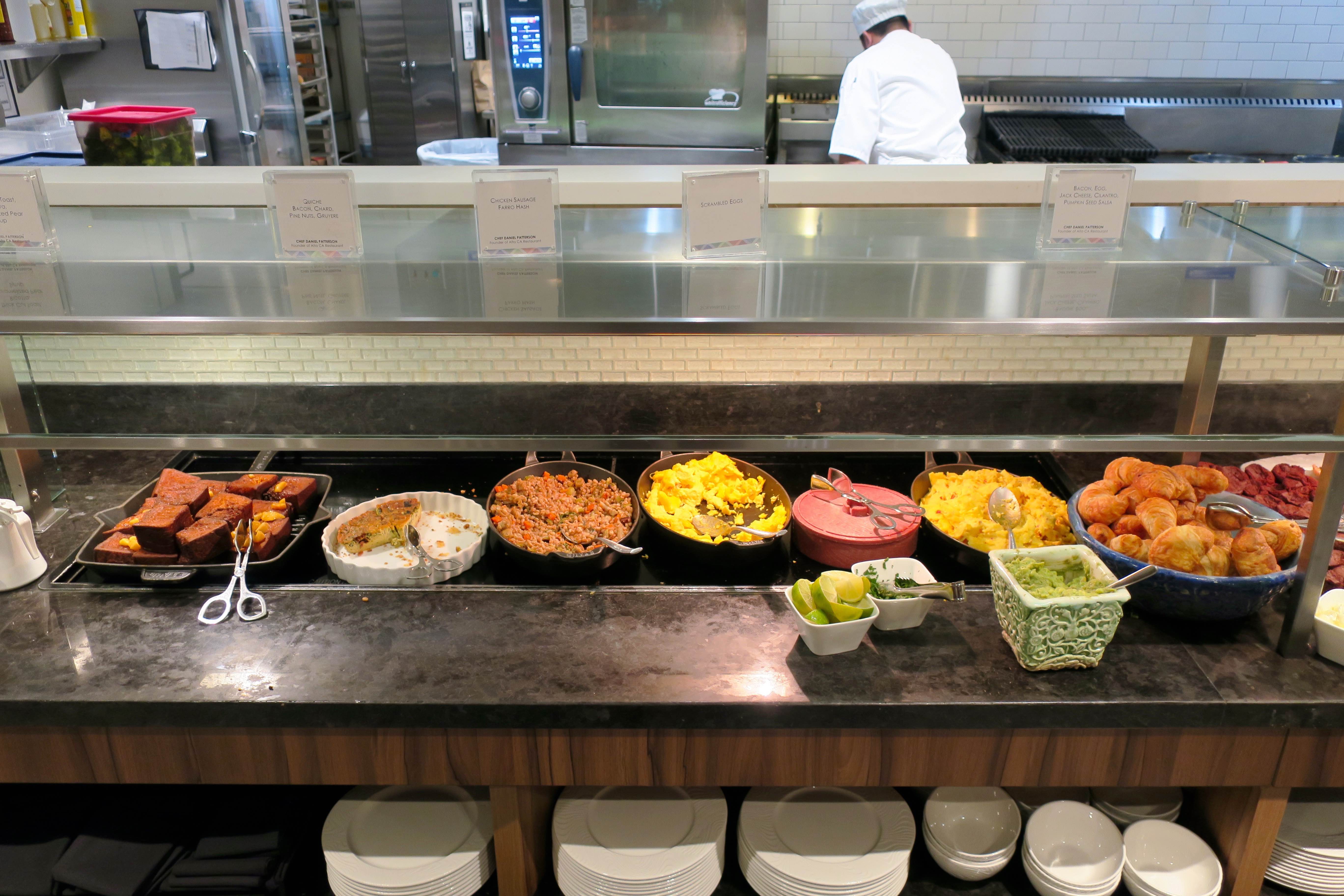 The exclusively Napa Valley-sourced wine offerings at the automatic tasting area is very cool.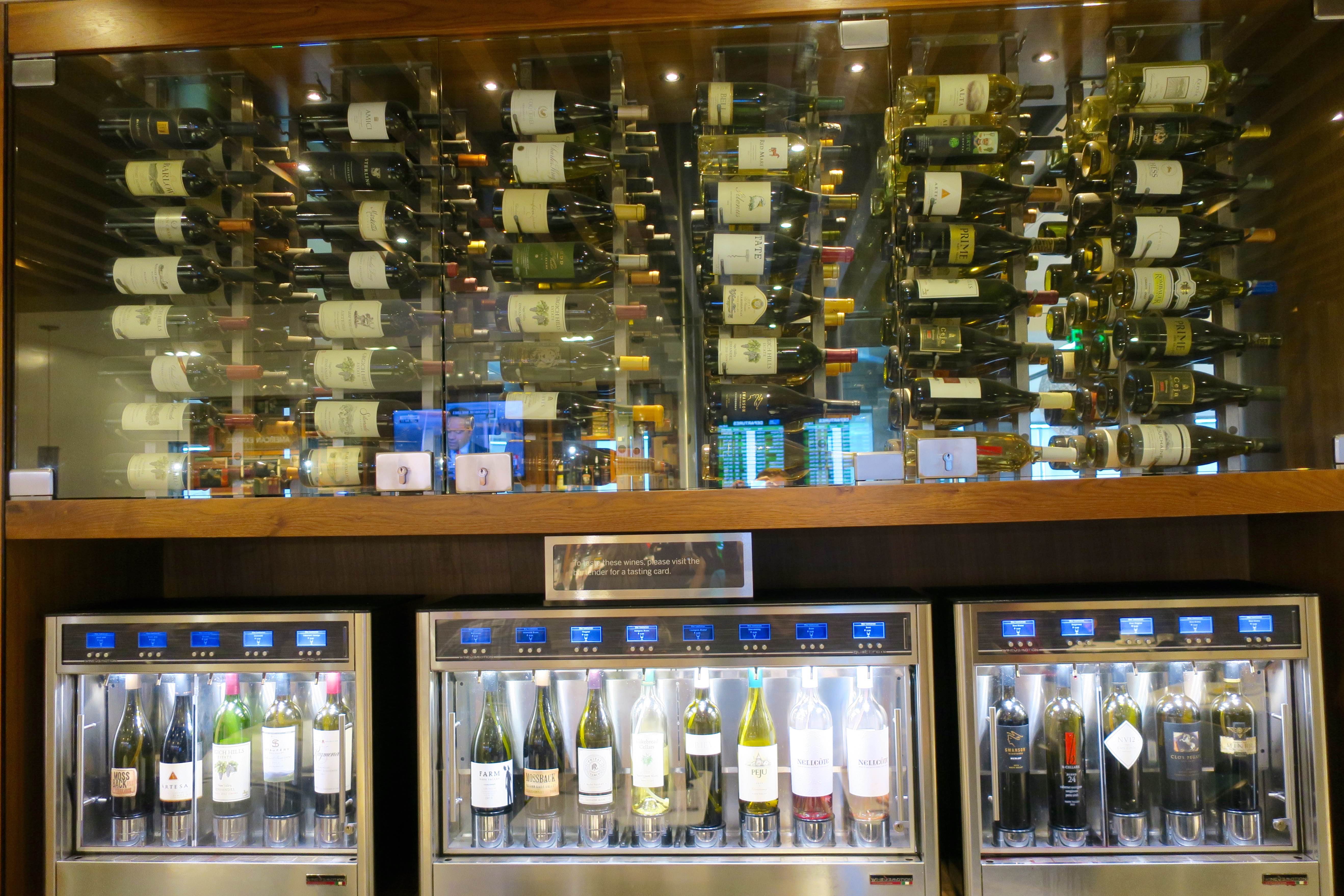 As you can see here at 8am on a Monday morning, it can get quite crowded.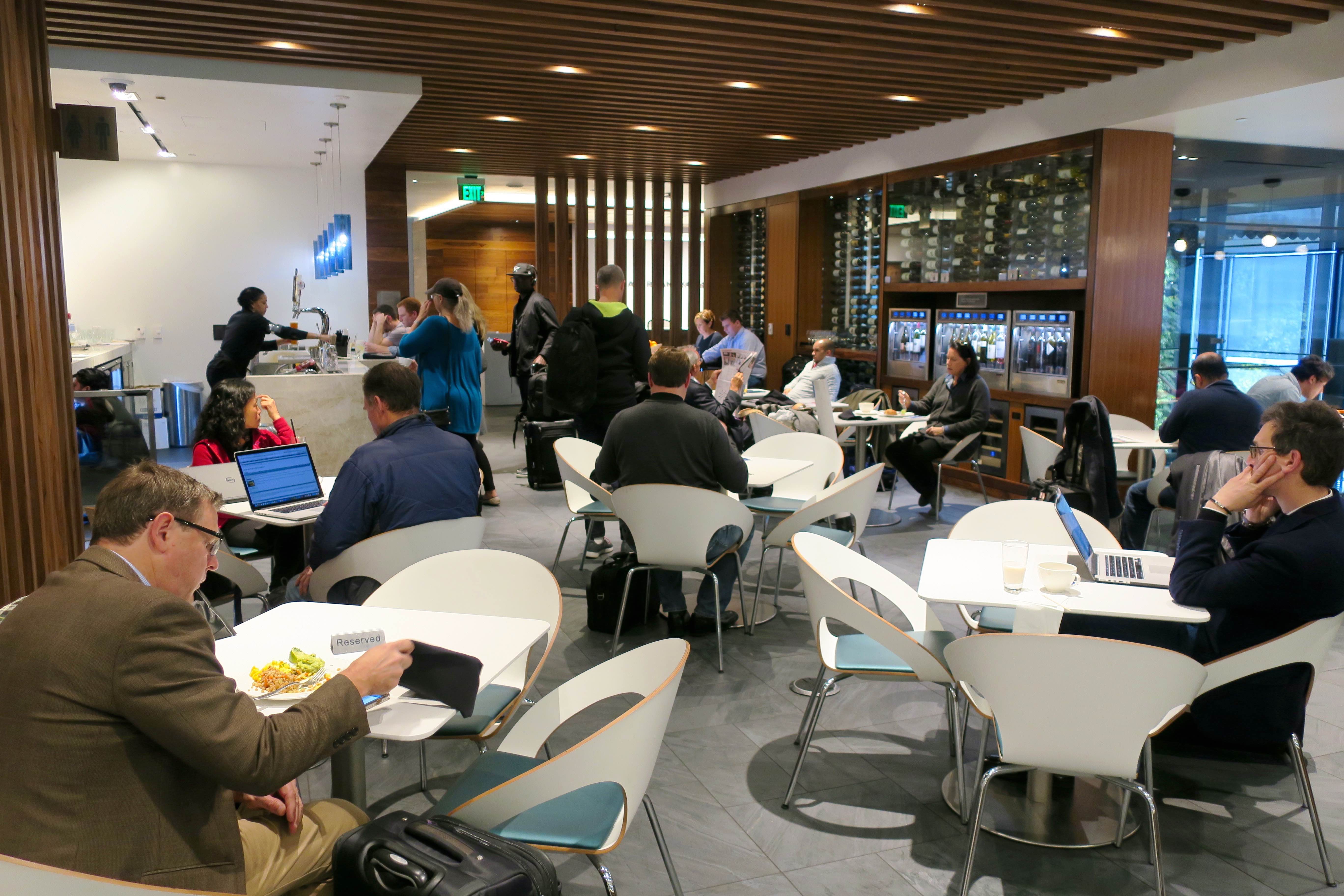 My tip would be to grab one of these black private pods if you can.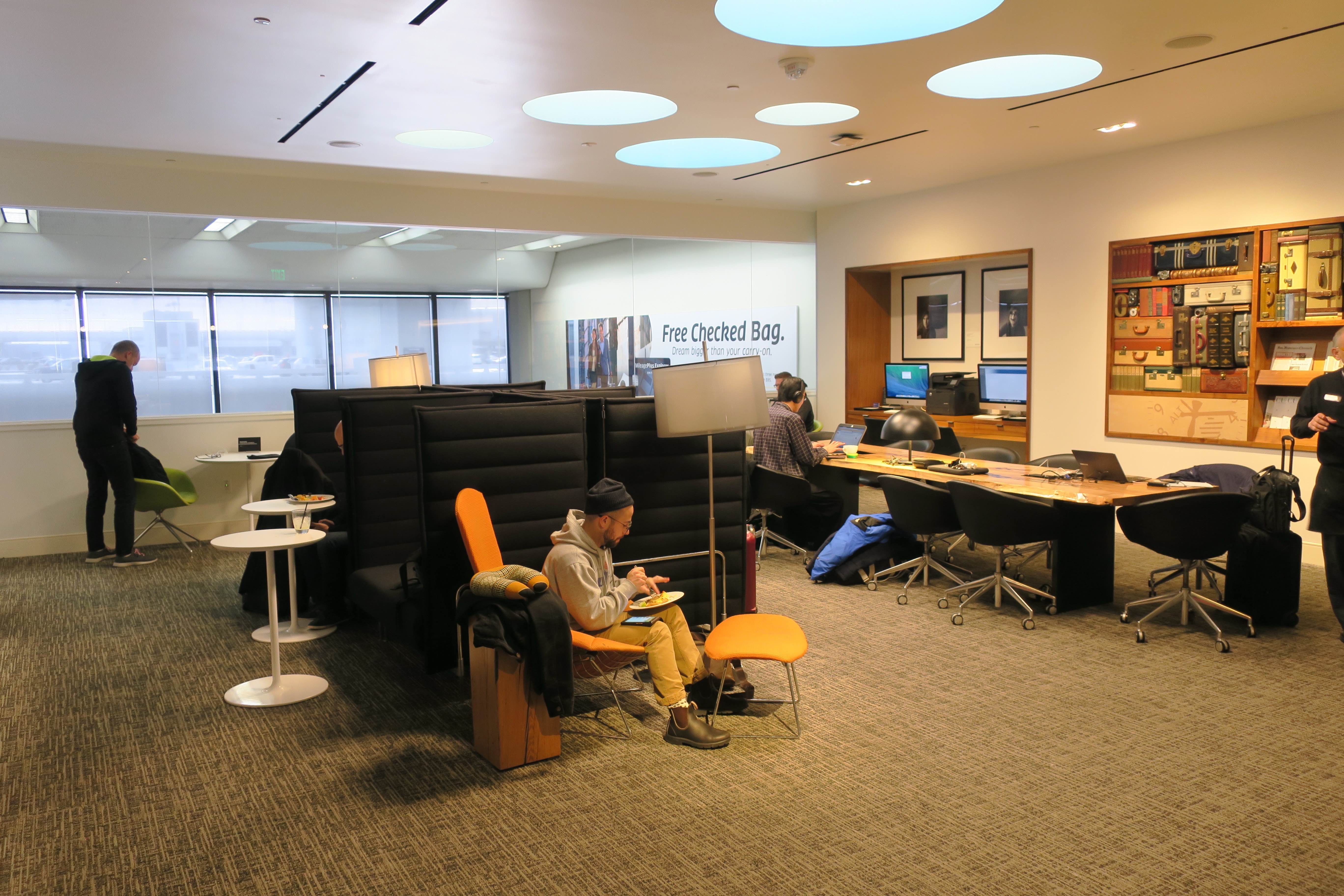 Houston
The Houston lounge can be a bit hard to find, tucked away via an elevator located in the duty free store at the top of the escalators after security in Terminal D.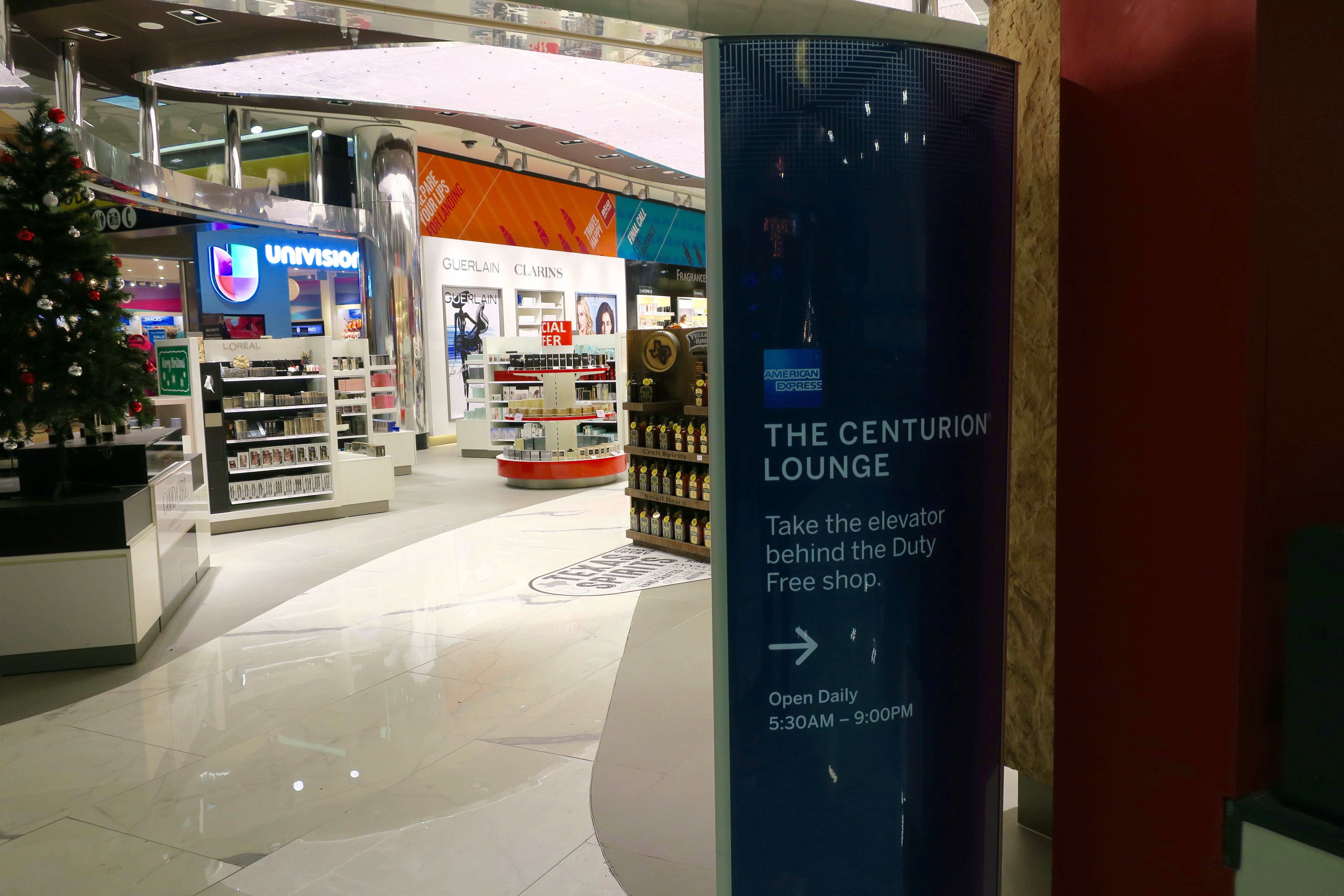 The good news is that if you are departing from another terminal at Houston, you can connect to Terminal D without having to re-clear security.
Like the other Amex lounges in the US, it is beautifully appointed.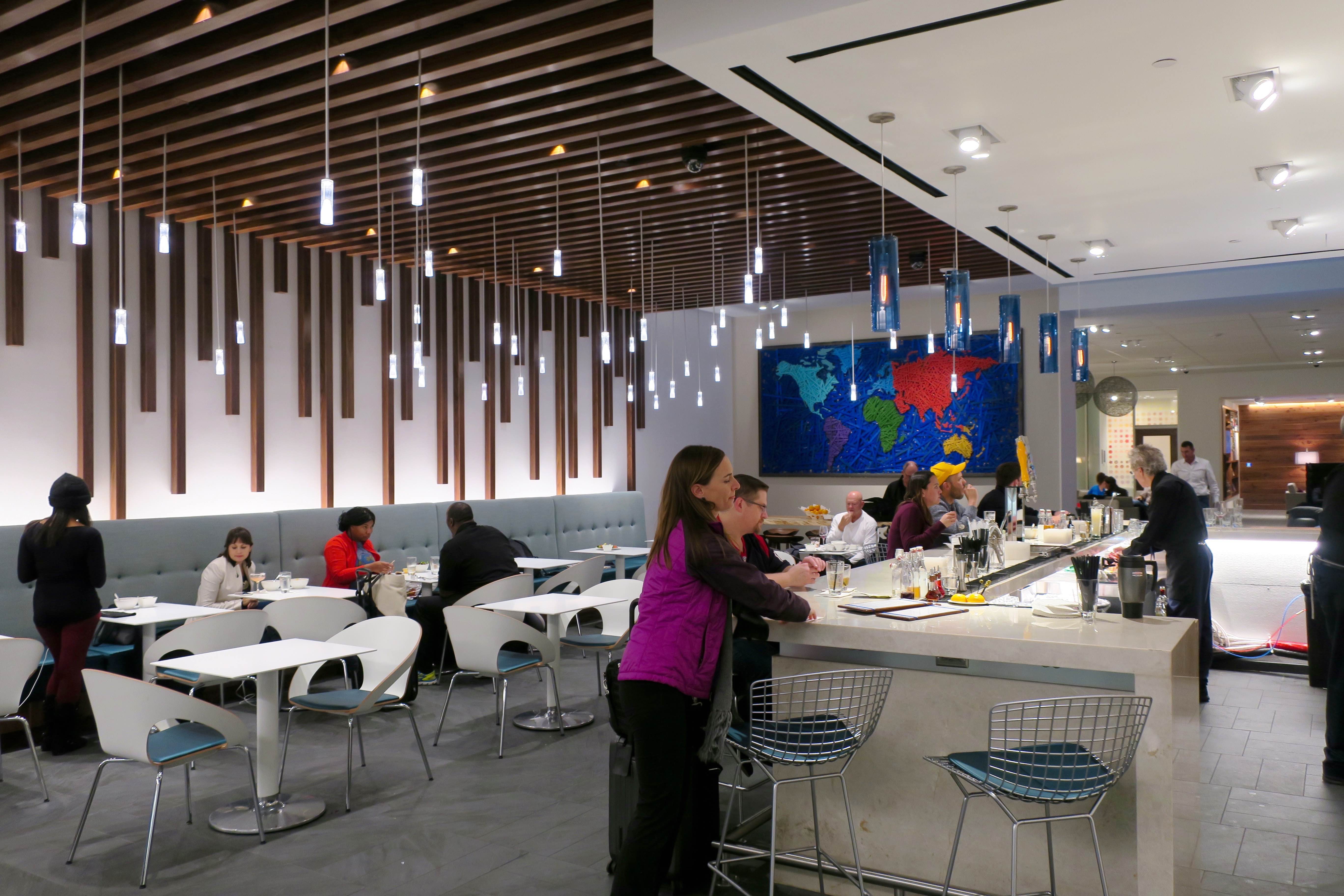 Las Vegas
This was the first Centurion lounge to open (in 2013).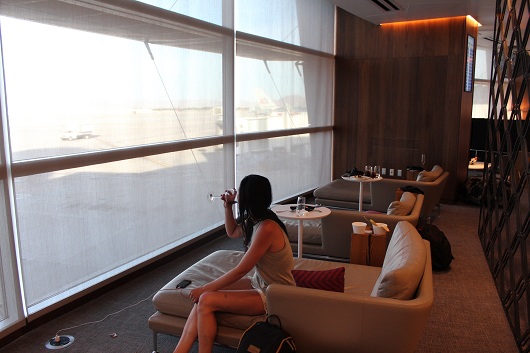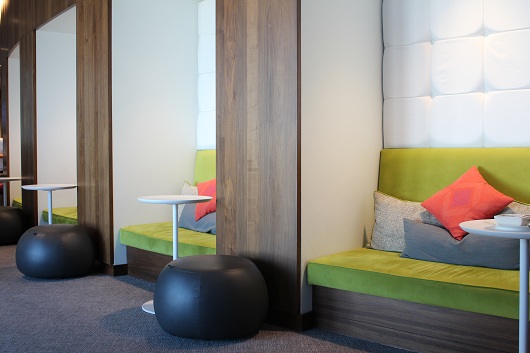 It has some of the best food in the network, with a complimentary buffet and full-service bar.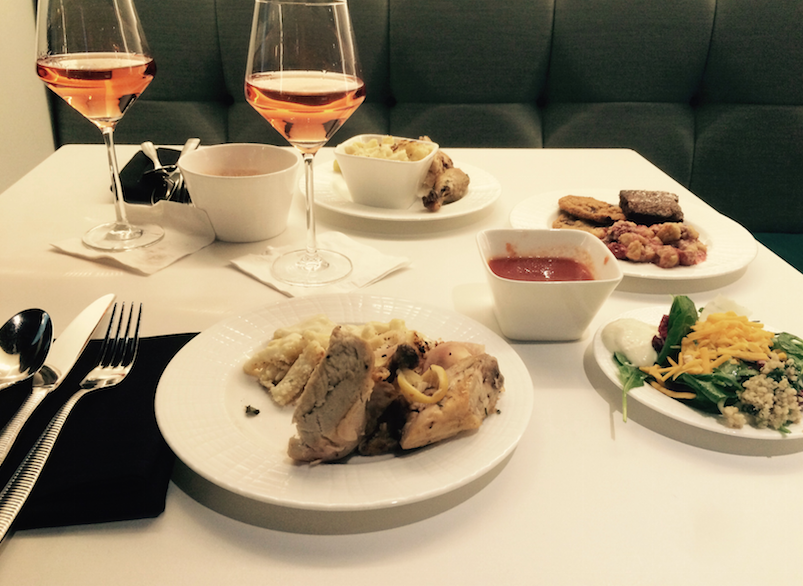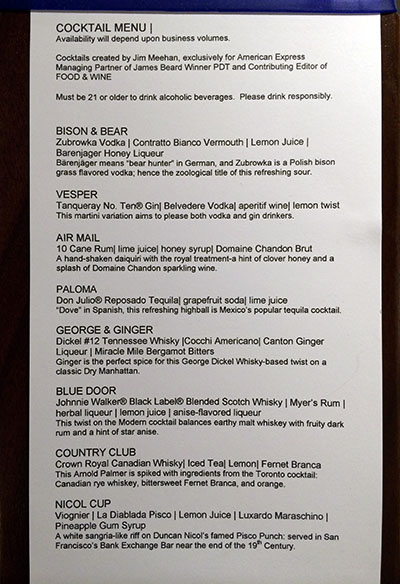 Access rules for lounges
Access is free for Platinum Card and Centurion members, as well as either their immediate family (spouse or domestic partner and children under 18) or two other guests (except for the Centurion Studio in Seattle, which allows only one guest).
One-day passes can be purchased by other American Express cardholders for $50 USD subject to space availability and one child under 18 can enter with you for free.
Summing up
American Express Centurion Lounges are a valuable alternative for customers who:
lack access to traditional airline lounges, which may be restricted to passengers in premium cabins or with elite status
prefer a superior product to US domestic lounges
want generous guest and family access privileges
American Express lounge at Melbourne Airport now open
was last modified:
September 29th, 2018
by