Canada's flag carrier may not fly direct to New Zealand, but they do fly from our Australian neighbours in Sydney and Brisbane direct to Vancouver, opening up award space across the Pacific, which is one of the hardest routes to redeem on in the world.
You could always redeem your Air New Zealand Airpoints for a direct flight from Auckland to Vancouver.
However, if you're specifically looking to fly Air Canada, and you have miles to burn with United's MileagePlus or Avianca's LifeMiles, this guide will explain your redemption options, along with details on how to choose the best Business Class seat on your flight; and lounge access at key airports.
Key routes for travellers from New Zealand
Direct with Air New Zealand
The most obvious choice for Kiwis will be Air New Zealand's 5x weekly return service from Auckland to Vancouver, which runs all throughout the year on a Boeing 777-200.
Departs Auckland at 8:10pm, arrives Vancouver 12:10pm same day (13 hours)
Departs Vancouver at 6:40pm, arrives Auckland 5.40am +2 days (14 hours)
Air New Zealand Business Premier Boeing 777-200
Business Class is configured in lie-flat reverse herringbone, with direct aisle access in a 1-2-1 configuration.
Premium Economy Class is configured as 2-4-2, and Economy Class squeezes in extra seats on the sides as 3-4-3.
Via Sydney with Qantas
Qantas operate a 3x weekly service from Sydney to Vancouver on a Boeing 747 during the months of June-July and December-January.
Via Sydney/Brisbane with Air Canada
Those looking to fly Air Canada can fly Air New Zealand to Australia and connect with their daily year-round service from both Sydney and Brisbane to Vancouver, flown by the Boeing 777 and 787 Dreamliner, respectively.
These Air Canada flights have basically the same timings:
Departs Sydney at 12:20pm, arrives Vancouver 7:30am same day (14 hours 10 minutes)
Departs Vancouver at 11:40pm, arrives Sydney 8:15am +2 days (13 hours 35 minutes)
Departs Brisbane at 12:00pm, arrives Vancouver 7:20am same day (13 hours 20 minutes)
Departs Vancouver at 11:50pm, arrives Brisbane 8:30am +2 days (14 hours 40 minutes)
These times allow you to take a morning flight with Air New Zealand from either Auckland, Christchurch, Queenstown and Wellington, and connect to Air Canada's midday services. Vice versa on the route home from Vancouver, you can connect with Air New Zealand services that will get you home late afternoon/early evening.
On both flights, you'll get the same lie-flat reverse herringbone Business Class seat with direct aisle access in a 1-2-1 configuration. We'll be reviewing the Sydney to Vancouver flight in October 2017.
Economy Class is configured as 3-3-3 on the Dreamliner, with the 777 squeezing in an extra seat in the middle as 3-4-3.
From Vancouver, there are two common options: flying onward to Toronto or New York.
With Air Canada, the same aircraft and flight number of the Sydney flight continues on to Toronto with a less than two-hour layover in both directions to/from Sydney and Brisbane, making that connection reasonably convenient.
If you wanted to fly on to New York, you again have the option of a short layover and taking a Boeing 787 with Air Canada. We previously reviewed this flight when it was operated by an inferior Airbus A319.
With Air New Zealand, there are convenient codeshare connections to Toronto all week – flying on Air Canada, no less – however not to New York. You'd need to fly through a US port to get a codeshare flight through to the Big Apple.
Comparing redemption options on Air Canada
For travellers in New Zealand who wish to fly Air Canada, there are four main programs that are most common for points redemptions, with each linked to a guide on how to get your hands on points with each one:
Here is a comparison of one-way Business Class pricing on three routes, the first being the flight from Auckland to Vancouver via Sydney/Brisbane (no extra cost to fly onto anywhere else in North America, including Toronto or New York); the second just a direct flight between Vancouver and Toronto; and the third between Toronto and Europe:
Program
Auckland - Vancouver/Toronto/
New York (via Sydney/Brisbane)
Vancouver-Toronto
Toronto-London
Krisflyer
-
20,000
65,000
MileagePlus
80,000
25,000
70,000
LifeMiles
80,000
25,000
63,000
Asia Miles
-
30,000
-
For comparison purposes, a cash ticket from Auckland to Vancouver return via Sydney/Brisbane starts at $8600 return in Business Class and $1815 in Economy.
For the Transpacific flight, choose MileagePlus or LifeMiles.
While KrisFlyer can be used on straight Air Canada redemptions from Sydney and Brisbane, they do not allow for the Auckland connection, as this would be a mixed carrier redemption with Air New Zealand (and this is not permitted under the rules of the program). Even if you just so happen to have lots of KrisFlyer miles lying around, MileagePlus and LifeMiles redemptions on the Transpacific route are about 37,000 points cheaper, even with the connection.
For a flight within Canada, choose KrisFlyer.
If you're just looking for a domestic redemption within Canada on Air Canada, KrisFlyer offers you the best value.
Sweet spot: go for a more extensive North American trip, and choose MileagePlus
United MileagePlus offer one free stopover and an open jaw (fly into one airport and out of another) on roundtrip awards, i.e. double the one-way pricing above to 160,000 miles.
That means you could fly from Auckland to New York via Vancouver and spend however long you like in the Big Apple.
Then you can make your own way to and fly out of Toronto (or any other North American city that Air Canada serves) back to New Zealand via Vancouver.
You won't incur any fuel surcharges, and the Excursionist Perk allows a free one-way flight within one region, i.e. North America. In our example, the white line shows that free flight from New York to Toronto.
How to search for and book Air Canada flights
Whatever Air Canada space that shows on the United website at Saver Award level should be available to book through its partners. This will also be the main site you use to book a more extensive North American trip, as per the example above.
Step 1: Go to united.com and input your origin and destination. It's best to break up the journey, e.g. search Auckland to Vancouver, then Vancouver to Toronto. Tick all boxes except for 'nonstop flights' as these are not available from Auckland on Air Canada:
Step 2: If searching for Business Class space, look for dates with the dots; for Economy, look for the blue line:
Step 3: Click on a date with Business Saver (not Standard) Award availability and it will bring the flight details up for you:
On the Auckland to Vancouver leg, try and find a flight that doesn't have a mixed cabin. While most of the time this will just be the leg between Auckland and Sydney/Brisbane, and its more bearable flying that in economy than the longer leg to Vancouver, the number of miles required to redeem this award will be the same – and you'll miss out on Air New Zealand's excellent Trans-Tasman Business Premier Seat on their own Boeing 777-200.
Step 4: Book online with United MileagePlus (free) and Avianca LifeMiles ($25 USD online vs $85 USD by phone). For the other two (for redemptions within Canada), write down the date, route and flight number and call KrisFlyer on 0800 750 760 or Asia Miles on 0800 44 9044.
How to get the best Business Class seats on domestic Air Canada flights
On shorter flights, like Vancouver to Calgary or Toronto to Montreal, expect a very similar product to what you might experience on domestic flights within New Zealand or Trans-Tasman flights on Air New Zealand's Boeing 767 – angled-flat seats in a 2-2 configuration. We reviewed this product here.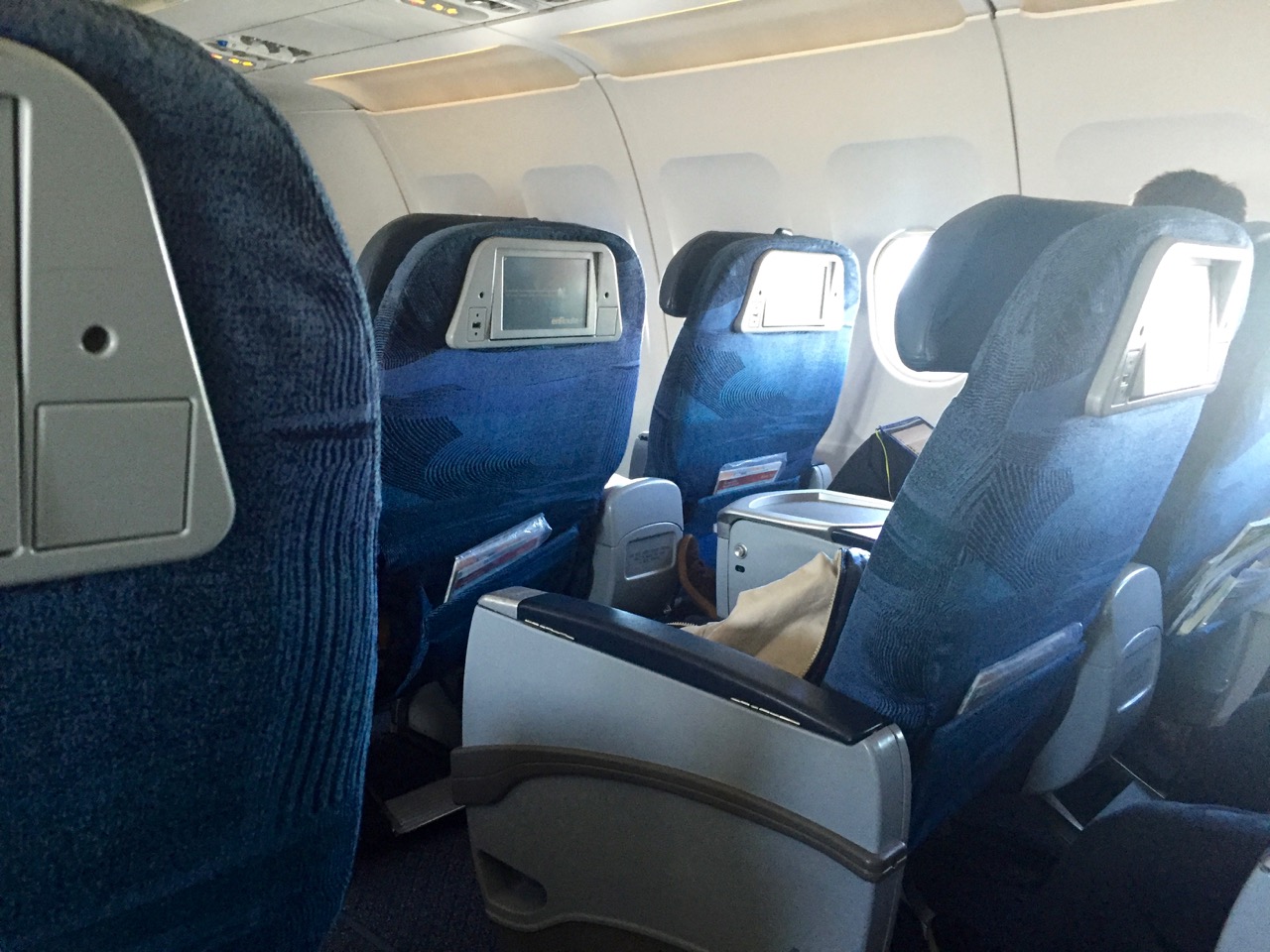 However, on longer transcontinental flights such as Vancouver to Toronto, some flights are operated by Boeing 767, 777 and 787 Dreamliner aircraft, all of which have lie-flat Business Class seats in a 1-2-1 or 1-1-1 configuration, giving direct aisle access to all passengers.
You can use Google Flights to find out which aircraft is servicing the flight you're looking at.
With a lot of flight frequencies, it will most likely be the more expensive cash tickets that will have the superior Business Class product, so go to the bottom first.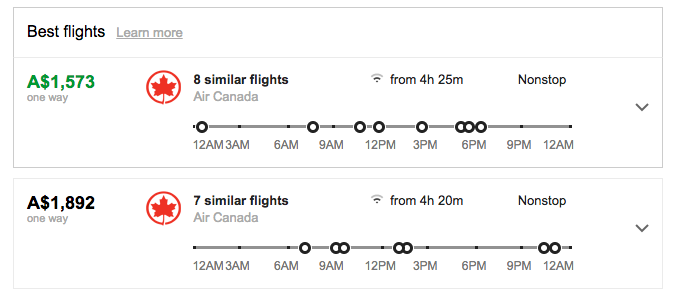 When I click on one of the more expensive flights, I can see it is operated by a Boeing 767 with lie-flat Business Class seat: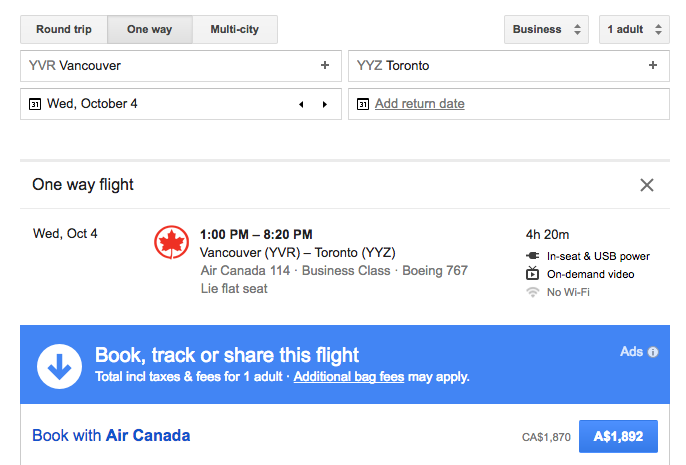 Lounge access
Reviews of Air Canada's onboard food and drink service are average, so you may want to take the opportunity to dine more substantially in a lounge prior to your flight.
If you're flying from Auckland, Wellington or Christchurch, you'll have access to the Air New Zealand International Lounge. If you're flying from Queenstown, you'll use Air New Zealand's shared Regional Lounge.
Waiting for your connection in Sydney? You'll have access to two lounges, with links to our reviews of both:
They're a 20-second walk from one another, so you can easily try them both out.
If flying from Brisbane, you'll have the choice of the same two lounges as well:
Air New Zealand International Lounge
Singapore Airlines SilverKris Lounge
If travelling onward from Vancouver to Toronto or New York, you'll enter Air Canada's Maple Leaf Lounge (pictured below).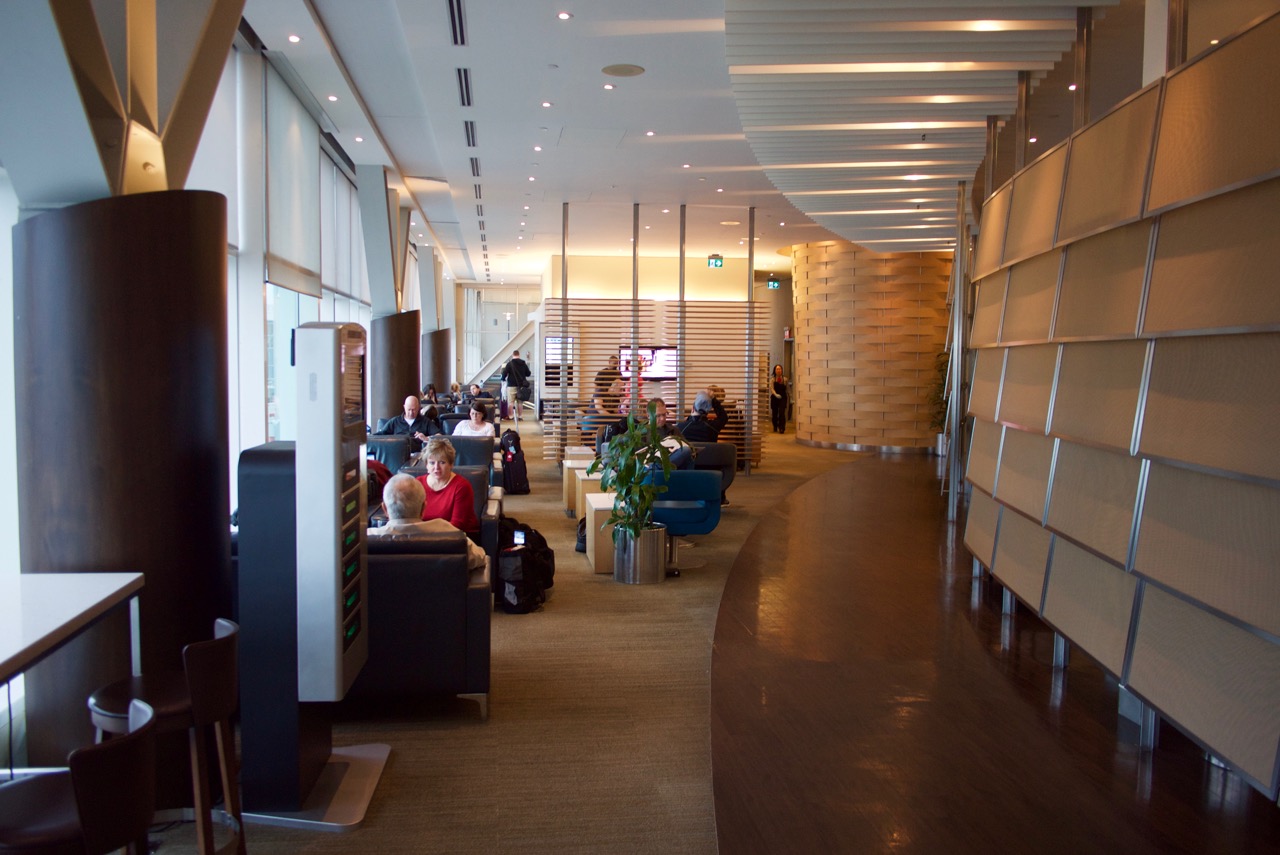 On the way back, from Toronto, you'll again enjoy Air Canada's Maple Leaf Lounge, whilst Air Canada flights from New York's Newark Airport depart from Terminal A, where there are no Star Alliance lounges, meaning that you would have to access the Lufthansa or SAS lounge in Terminal B or one of the United Clubs in Terminal C and catch a shuttle to Terminal C for your departing flight.
That's assuming you can access Terminal B or C without a departing flight from one of those terminals, so you may just be best to play it safe and forgo lounge access.
Summing up
While Air Canada redemptions are best suited to travellers based in Sydney and Brisbane, Kiwis can get on board for the same number of miles with either MileagePlus or LifeMiles.
Air Canada availability is also far superior to Air New Zealand, however, the latter is obviously the more convenient way to travel to Vancouver should you have a very healthy balance of Airpoints Dollars or points with a Star Alliance partner like United or Singapore Airlines.
You'll find that your value is maximised by booking a roundtrip award to North America with MileagePlus rather than a one-way in order to take advantage of a free stopover and open jaw.
Supplementary images courtesy Air Canada and Air New Zealand.
How to book Air Canada flights using frequent flyer points
was last modified:
December 23rd, 2017
by