American Airlines have launched their latest offer which sees AAdvantage miles being sold with a bonus if you make a purchase by 5 January 2020 — with a resultant cost of 1.98 US cents per mile at the best-value tier.
These offers run almost monthly (see Offer history for details of past points value). The current price is about average in terms of value compared to previous offers.
Buying AAdvantage miles makes the most sense when topping up your balance for a specific Business or First Class redemption on American Airlines, a oneworld partner like Qantas or Qatar Airways, or partner airlines like Air Tahiti Nui and Fiji Airways.
The current AAdvantage purchase miles promotion
Valid until: 5 January
Best value redemptions: domestic Australian and Trans-Tasman Qantas Business Class, Fiji Airways Business to Fiji, Qantas/Cathay Pacific/Japan Airlines Business to Asia, and oneworld Business to Europe
Book awards online: for AA, Qantas, British Airways, and some others (full list)
Book awards over the phone: for other partners, you can only book over the phone and are charged a $75 USD booking fee
You can buy miles in this promotion through this link
This promotion yields the cheapest per mile price of ~1.98 US cents per mile when buying exactly 100,000 miles.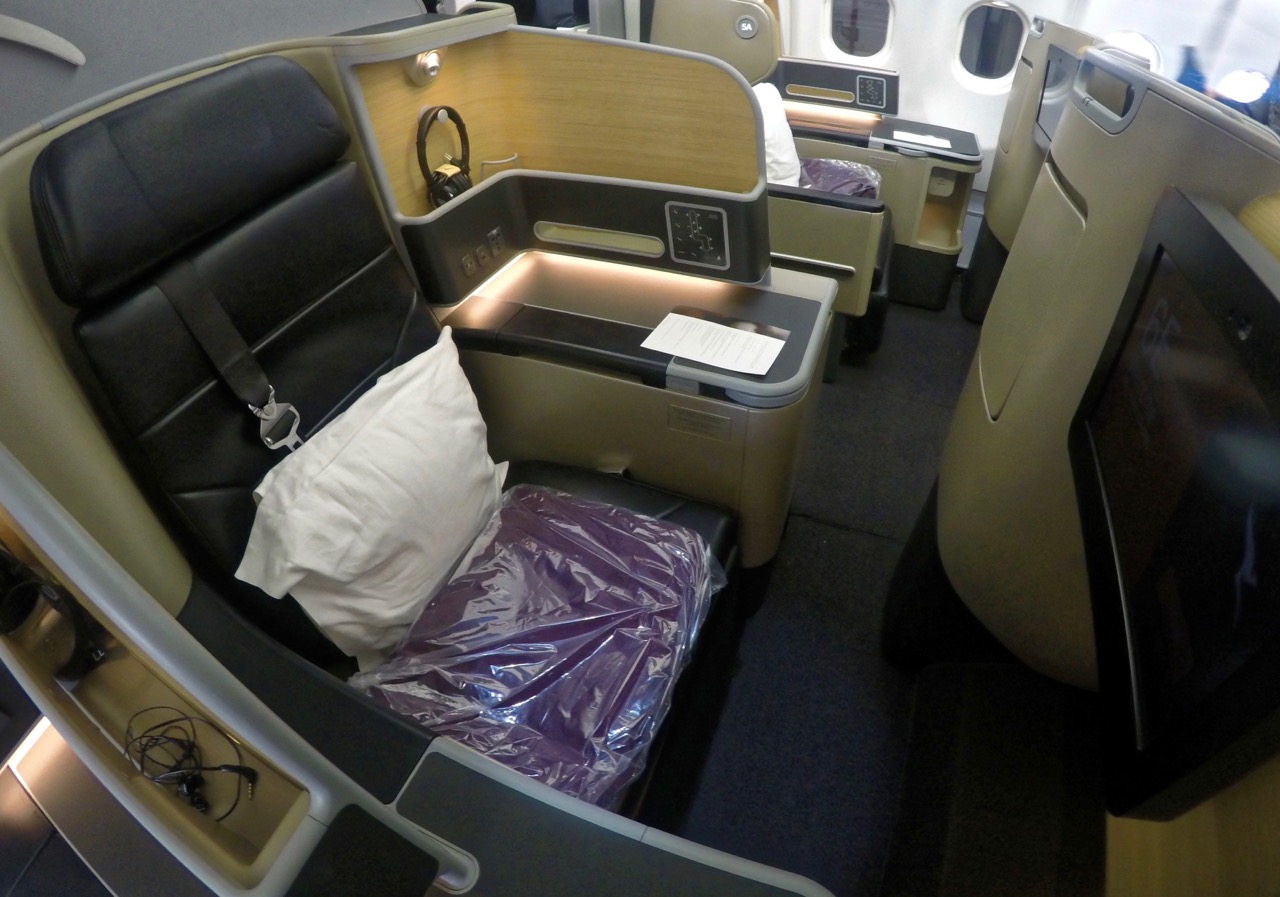 Note: AAdvantage miles expire after 18 months of inactivity in your account, so make sure to keep your account active by earning/redeeming miles regularly.
Why purchase AAdvantage miles?
For oneworld partner redemptions: American Airlines is a member of the oneworld alliance, so you can redeem AAdvantage miles across any oneworld airline, including all those who fly direct from New Zealand – Qantas, Cathay Pacific, LATAM, Malaysia Airlines, and Qatar Airways
For other partner redemptions: American Airlines have other partner airlines that fly to New Zealand that you can redeem AAdvantage miles for, including Etihad, Fiji Airways, Hawaiian Airlines and Air Tahiti Nui
Very helpful award hold policy: with AA, it is possible to hold award bookings for up to five days (if booking more than two weeks from departure) or 24 hours (if booking closer), allowing you to pencil in plans and then confirm the ticket once you've bought or transferred the miles into your account. This policy makes it easy to make risk-free redemption holds while you re-confirm total costs of making your booking and buying the points
The best value AAdvantage redemptions for NZ travellers
Here are some of the better-priced and more readily-available awards for travellers from NZ:
Example Redemption
AAdvantage Miles required
Cost (USD) with latest promotion at highest discount tier*
* All redemption prices are in USD, one way and do not included booking fees, taxes and other charges
Australia to/from New Zealand in Business Class with Qantas or LAN
25000
$495
New Zealand to Fiji in Fiji Airways Business Class
30000
$594
New Zealand to Tahiti or Air Tahiti Nui Business Class
30000
$594
New Zealand Business Class to Asia Zone 1 (Brunei, Cambodia, China, Hong Kong, Indonesia, Malaysia, Myanmar, Philippines, Singapore, Taiwan, Thailand, Vietnam)
40000
$792
New Zealand Business Class to Asia Zone 2 (Japan and Korea)
40000
$792
New Zealand Business Class to Hawaii on Hawaiian Airlines
65000
$1287
New Zealand Business Class to Contiguous 48 U.S. states
80000
$1584
New Zealand Business Class to Europe
85000
$1683
Factors to consider when purchasing AAdvantage miles
Just like any miles purchase deal, you'll need to take into consideration the following factors:
The cost of the miles required for your intended route
The $75 USD phone booking fee for some partners
The USD:NZD exchange rate
The taxes that come along with the booking, which are most easily confirmed by American over the phone
The time taken to research award availability and make the booking
AAdvantage accounts less than 30 days old are not permitted to buy or gift miles, so register for an account now so you can take advantage of future promotions
AAdvantage usually lets you purchase or gift 100,000-150,000 miles (not including the bonus miles on offer) per year per account receiving the miles, so ensure you are buying into a deal when you have a redemption in mind OR you think it's a really good one
Be sure to get to the checkout page to see the full cost of your purchase including all USD fees and taxes
Previous offers
The simplest way to track historical AAdvantage offers is with the US cents per mile cost for the best offer tier for that period:
Date
Cost Per Mile
(USD cents)
Notes
December 2019
1.98
November 2019
2.01
October 2019
2.03
September 2019
2.08
August 2019
1.84
June-August 2019
1.72
Lowest
May 2019
1.92
March-April 2019
1.92
January 2019
2.14
December 2018-January 2019
1.77
November 2018
1.92
October-November 2018
2.25
Highest
October 2018
2.03
August 2018
1.84
June-August 2018
1.72
Lowest
May 2018
2.08
March 2018
1.81
February 2018
2.02
January 2018
2.13
December 2017
1.77
November 2017
1.91
October 2017
2.10
September 2017
2.02
August 2017
1.83
July 2017
1.72
Lowest
June 2017
1.72
Lowest
May 2017
1.77
March 2017
1.80
February 2017
2.24
Highest
January 2017
2.13
December 2016
1.77
November 2016
1.90
September 2016
2.02
August 2016
2.00
June 2016
1.72
Lowest
May 2016
1.89
March 2016
1.81
February 2016
2.02
January 2016
2.13
December 2015
1.81
November 2015
1.98
October 2015
2.10
August 2015
2.09
July 2015
2.00
May-June 2015
2.06
May 2015
2.09
April 2015
2.00
February 2015
2.07
January 2015
2.14
Average
1.96
Why purchasing AAdvantage miles is easier than earning them
The most common way to acquire AAdvantage miles for New Zealand travellers outside of flights would be to either:
purchase them (the purpose of this guide)
earn them through hotel stays or car rental
Purchasing miles directly from American Airlines is usually the most cost-effective method if you have a specific flight you are targeting.
With most of these promotions I am usually quite risk-averse, and would only recommend purchasing miles for topping up an account or buying the full chunk of miles if you have a specific redemption in mind, but not to purchase speculatively. Your preferences may differ though!
Making your booking
Bookings using your miles can be made online if you are looking to fly American, Hawaiian Airlines, Qantas or and a heap of other airline partners.
If not, they'll have to be made over the phone with the (usually excellent) call centre for the region, which happens to be in Fiji.
From New Zealand, you can contact them on (09) 308 4014, selecting option 3 for award travel.
Be sure to check the taxes and fees that will be incurred with your booking as well. I find the easiest way to do this is simply to research availability online on the Qantas website and call AAdvantage to price up the booking.
Summing up
AAdvantage provide those in Australia and New Zealand with some well-priced redemption opportunities available to use for cheaper premium cabin flights by buying miles and immediately redeeming them.
Their generous award hold policy makes the process much less risky, allowing you to hold an award, buy the miles and then call back to get it ticketed once they are added to your account.
Buying miles to redeem for flights in this way is still time-consuming, requiring you to research availability to death before you can book.
Whilst there aren't many valuable deals for Economy travellers here, if you are keen for a Business or First Class bargain, you can still pick one up when buying AAdvantage miles.
You can purchase AAdvantage miles here.
---
Are you new to the purchasing points game?
If you're new to the world of buying points/miles, I've written a full intro guide.
AA miles on sale with a bonus: average price
was last modified:
December 23rd, 2019
by
You can also access more comprehensive guides for buying points in each individual frequent flyer programme below.
AA miles on sale with a bonus: average price
was last modified:
December 23rd, 2019
by
AA miles on sale with a bonus: average price
was last modified:
December 23rd, 2019
by