AAdvantage provides excellent redemption value for premium cabin travel on Etihad. However, their partnership may be coming to an end soon.
I'm writing this post because I was recently lucky enough to find award availability for a Etihad First Apartment on their A380 flight from Abu Dhabi to New York in October. I used 115,000 AA miles + US$101 taxes to book this AU$14,000 flight, giving me a redemption value of over 12c per point. That's about six times the value I put on AA miles, so I'm thrilled!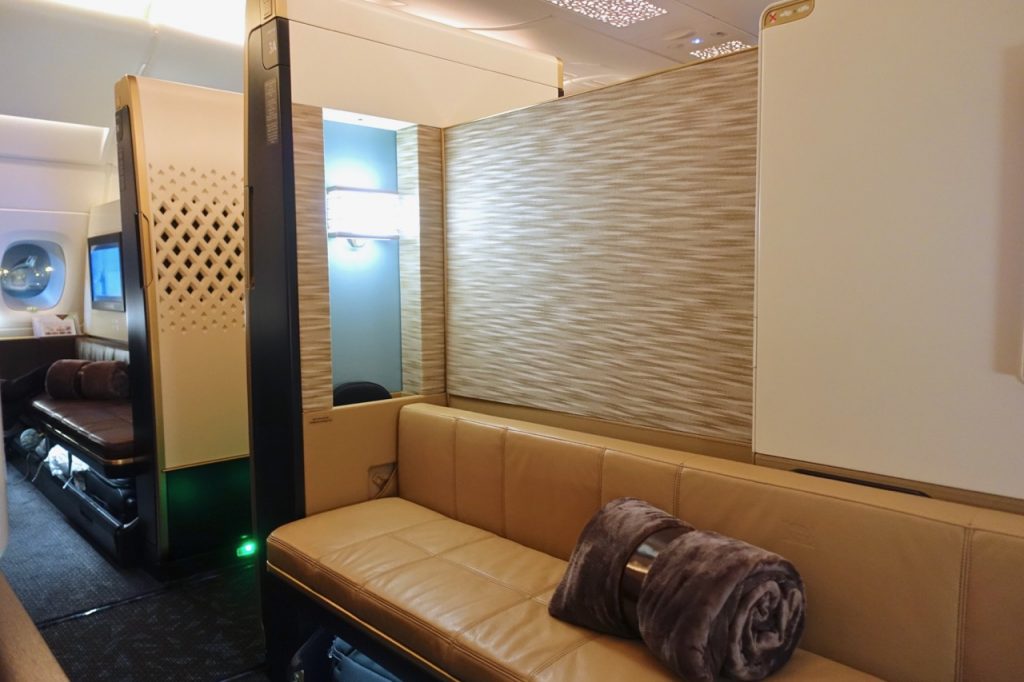 First Class on the A380 gives you a private suite with closing doors, a separate seat and bed, and access to a hot shower onboard
In this post, I go into why I think you should use your AA miles for Etihad flights soon—if you've already got some—as well as give you the right phone number to use to book.
Don't have AA miles? Then we explain why Air New Zealand Airpoints might be the better option.
Let's run through the questions
What is AAdvantage?
AAdvantage is the loyalty programme of American Airlines (AA), which is part of the oneworld alliance. It is also a joint venture partner of Qantas.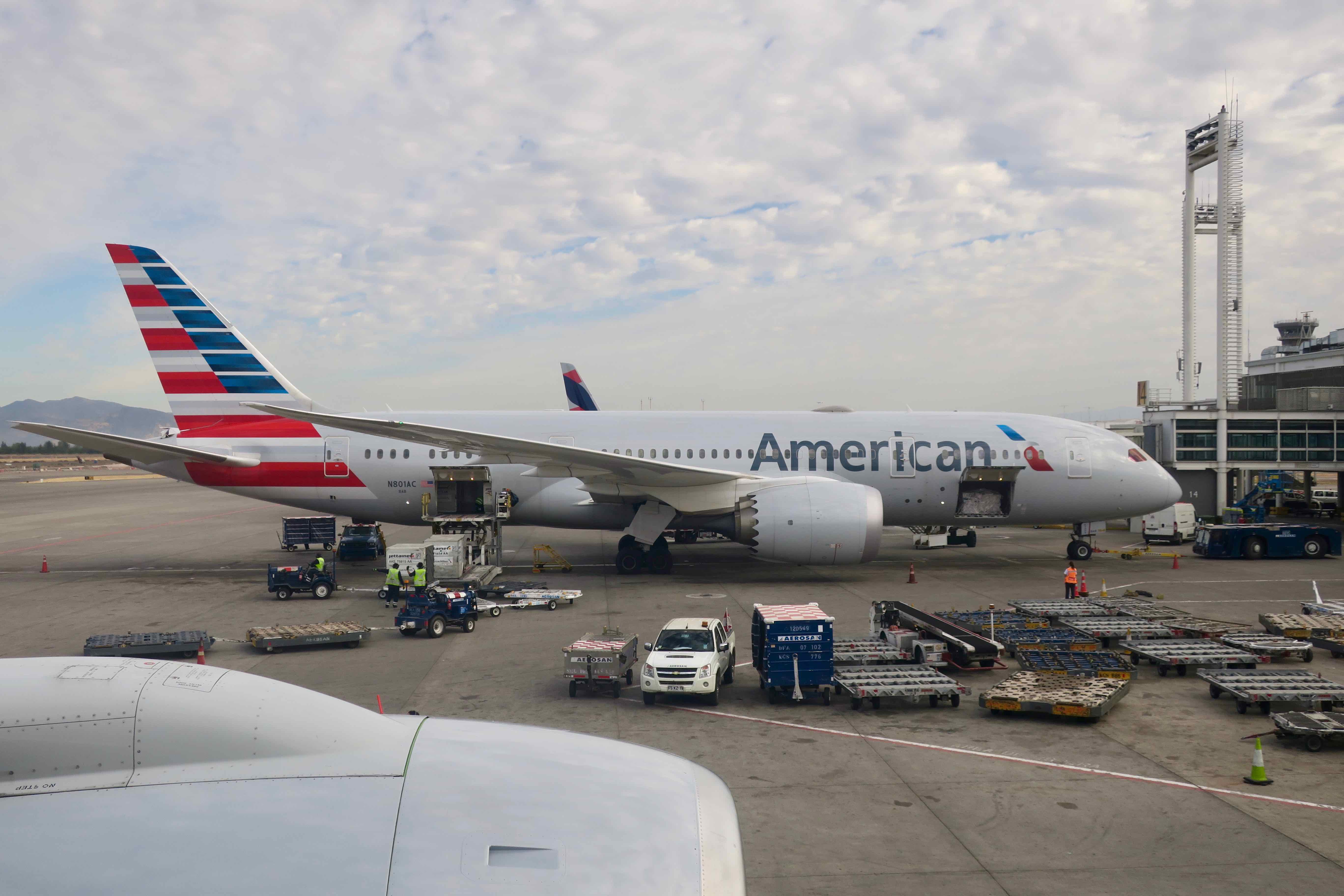 How do I get hold of AAdvantage miles?
Most travellers in New Zealand will buy miles during promotions. You can also transfer Marriott Bonvoy points to AA miles, and you can credit your Qantas and oneworld flights to AA.
If I have AA miles and am thinking of using them on Etihad, why should I use them now or soon?
There are rumours that AA may end its partnership with Etihad this month (or very soon). This means that this redemption opportunity will disappear.
Etihad has been struggling for years. In 2017, they lost over US$1.5 billion. This week, they reported that in 2018, they lost over $1.2 billion—not great news.
This talk also includes rumours that Etihad may join Star Alliance, the largest airline alliance in the world. This could open up the use of Singapore Airlines KrisFlyer, United MileagePlus and Avianca LifeMiles on Etihad flights, which is fantastic news! (Note that Etihad is not currently a part of any alliance.)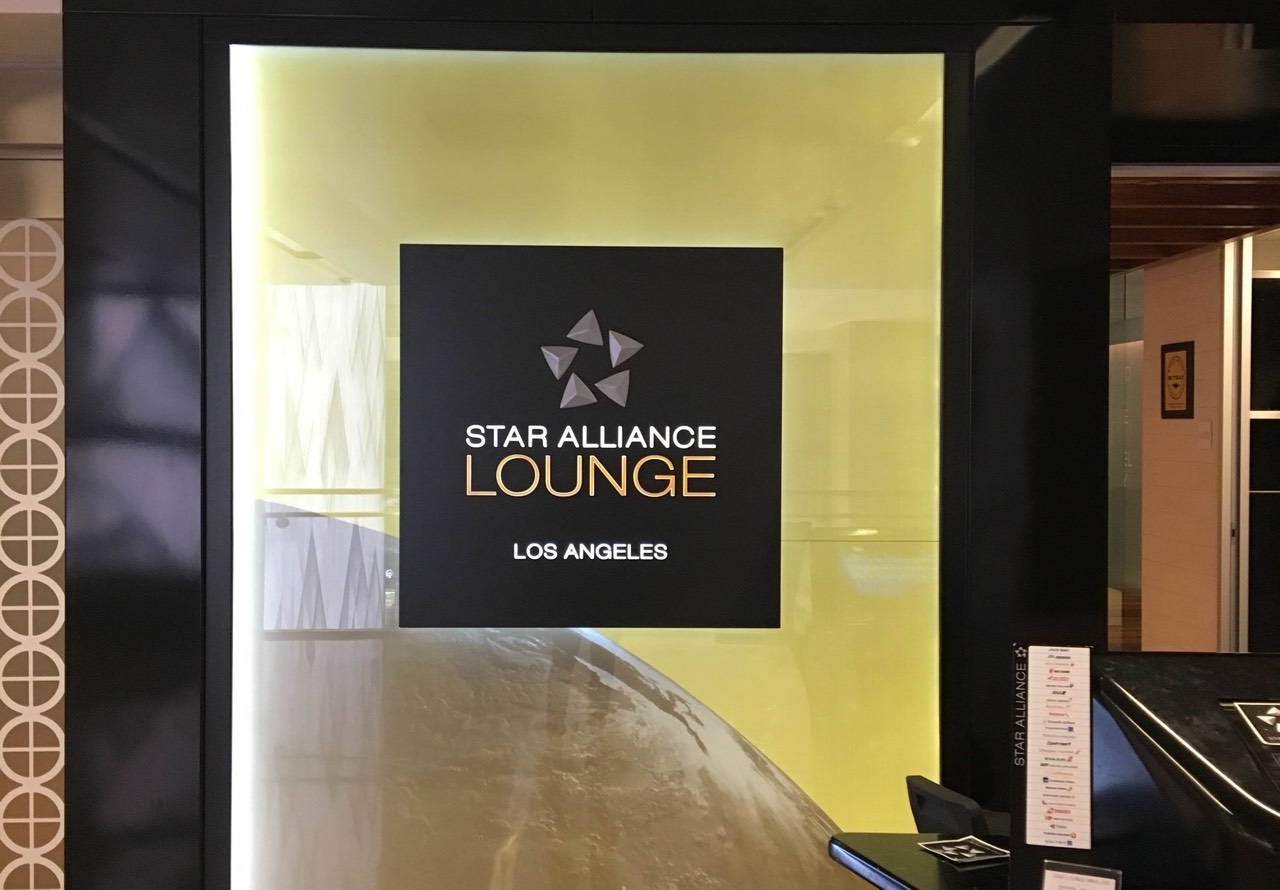 Why does AA offer good value for Etihad flights?
The main programmes that New Zealand-based travellers may use for Etihad flights are Air New Zealand Airpoints, Velocity Frequent Flyer and Etihad Guest.
For example, a one-way Business Class flight from Sydney to Abu Dhabi costs 104,000 Velocity Points (with a US$205 'Carrier Charge' on top of the taxes) or 99,999 Etihad Guest miles. Compare only 80,000 AA miles, with much lower taxes.
However note that this same flight can be booked using only 1,600 Airpoints Dollars. This is actually a reasonable price given the revenue cost of the flight, and if you have a Kiwibank Airpoints Credit Card, you could purchase these Airpoints Dollars outright for only NZD $1,605—plus you'll earn Airpoints Dollars back on the purchase! This compares to NZD ~$2,000 if you were to buy miles with AAdvantage. So consider using AAdvantage if you are already have a heap of miles to use, but not if you are looking to purchase them outright for a redemption.
One downside to using AA miles with Etihad is that if you are travelling between two regions other than the Middle East, then you'll have to redeem two separate awards (red routes). It's only for travel within the Middle East that you can tack on a flight for free (green routes).
This contrasts to redemptions with Qatar Airways. When using AA miles, you can search for availability and book these awards online through the AA website. Plus, Qatar redemptions are treated as just one rather than two separate awards when travelling between two non-Middle Eastern regions, such as Australia and Europe.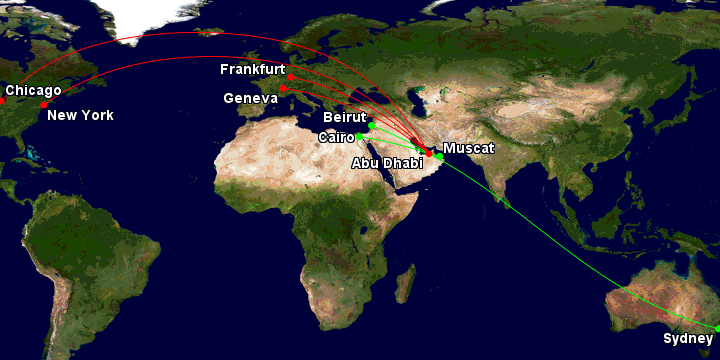 What's Etihad award availability like?
Compared to its main Gulf competitors—Emirates and Qatar Airways—you'll generally find Etihad to be more generous with their award availability (but of course that depends on the route).
Where does Etihad fly?
Etihad flies from Sydney, Melbourne and Brisbane to its hub in Abu Dhabi. They do not fly to New Zealand, and instead rely on Air New Zealand as their partner to connect passengers via the East Coast of Australia.
One of the two daily flights from Sydney is on an Airbus A380, with the other on an older 777. All flights to and from Melbourne and Brisbane are on Boeing 787 Dreamliners.
Most New Zealand-based travellers would use Etihad to fly to the Middle East and onwards to Europe (including London, Paris and Madrid). Some could also fly onto the East Coast of the US (including New York and Washington DC).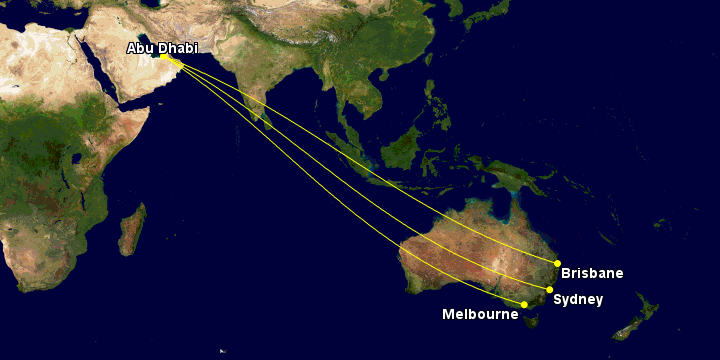 Which is the best First Class product to aim for?
One of the best First Class products in the whole world is on the A380—it's called [First Apartments]. You can find this on flights to Sydney, London, Paris, New York and Seoul (from July).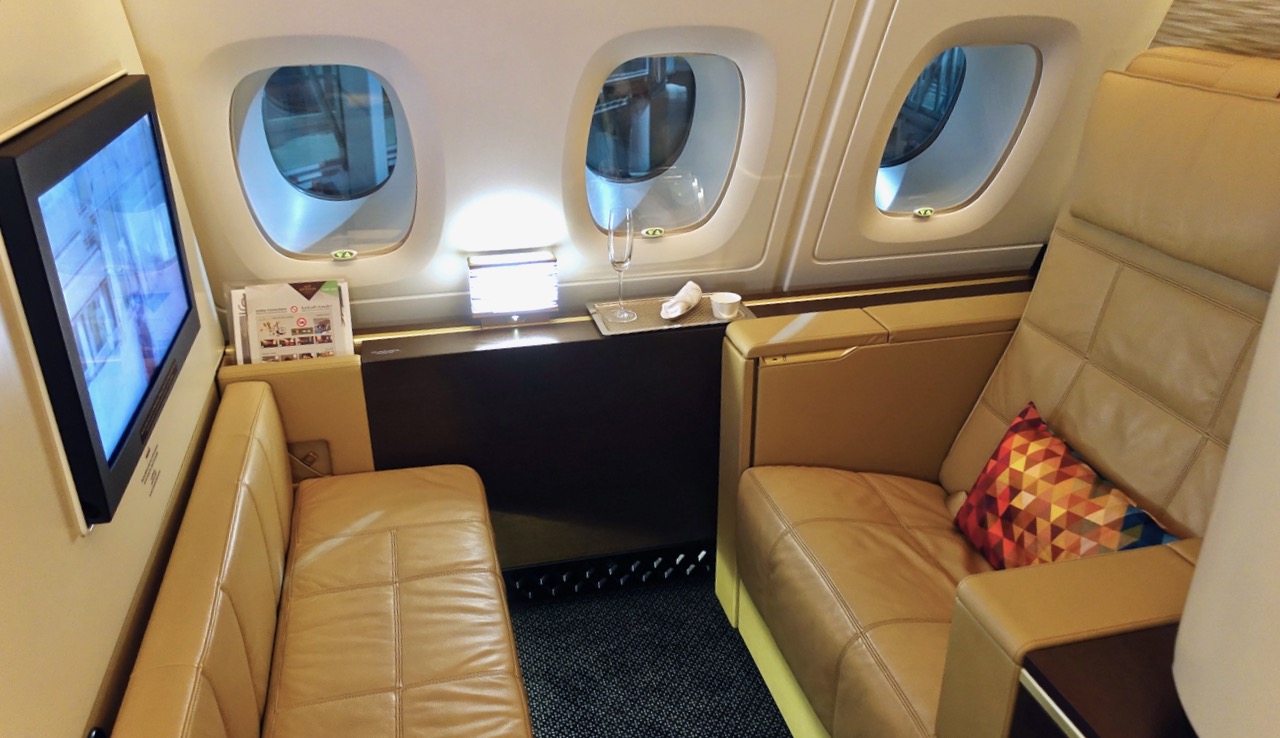 Which is the best Business Class product to aim for?
For Business Class, you'll want to aim for an A380 or a 787 (pictured below), which covers most Australian flights. Try to avoid the older product on the 777 from Sydney.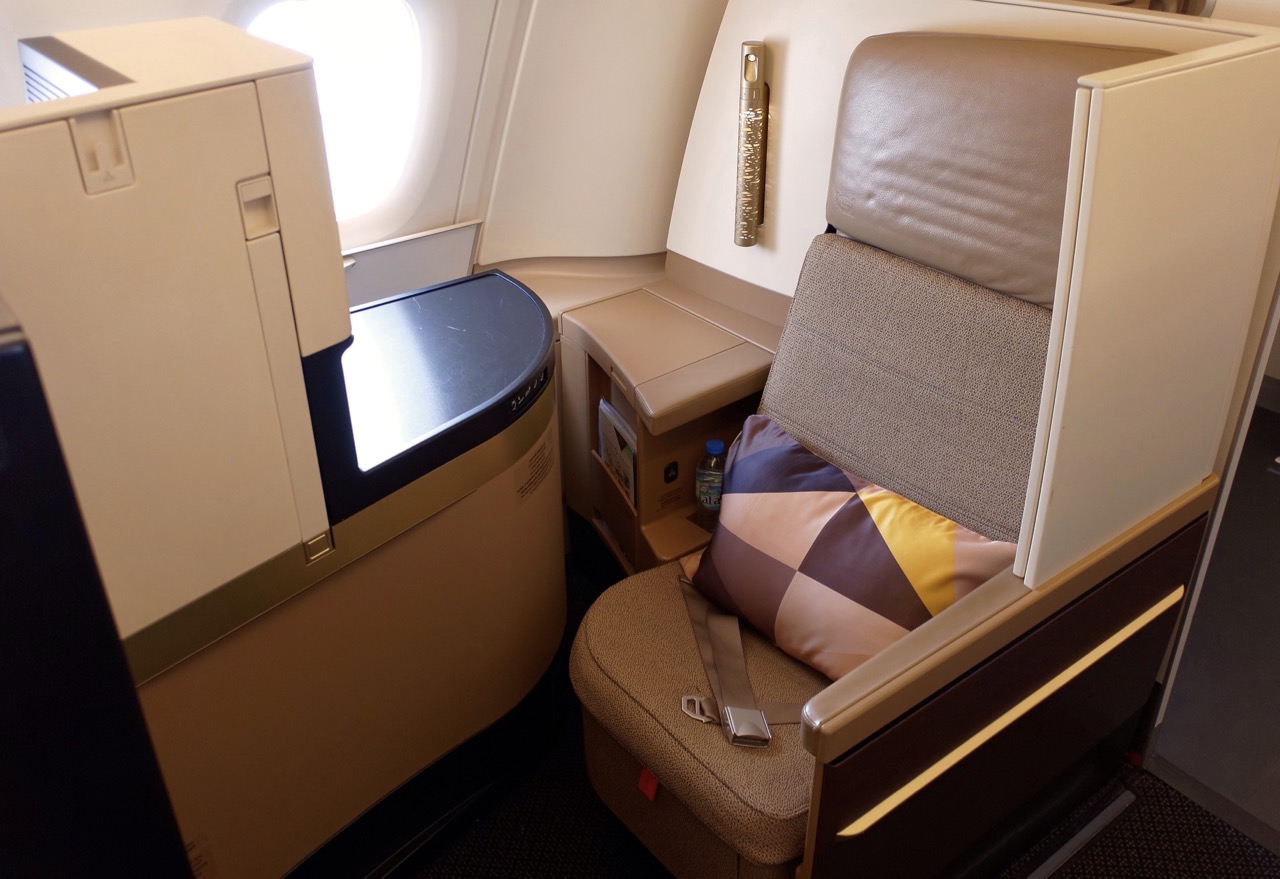 Can I book Etihad flights online using AA miles?
No, you cannot. However, you can save time for you and the phone agent by searching for availability on the Etihad Guest website first. Look for GuestSeat (not OpenSeat) availability.
Which phone number should I use to book then?
Once you've found availability, don't call the AAdvantage US number on +1 800 882 8880. The phone agents in the US call centre cannot see all Etihad availability.
Try instead the Australian number at (02) 9101 1948 or the New Zealand number at +64 9 308 4014. This routes to the Fiji call centre, with agents that can (for some unknown reason) see more availability on Etihad than their US counterparts.
These phone numbers are manned 24/7. However, if it's outside normal business hours, then your call will direct to the Caribbean island of Trinidad (of all places!). They can also see the same availability as the Fiji agents and will quote any taxes in New Zealand Dollars.
Summing up
If you are lucky enough to have some AAdvantage miles in your account and want to fly a great First or Business Class product with Etihad, then my advice is to book soon!
You can save time by searching for award availability on the Etihad website. Then call AAdvantage's Australian or New Zealand phone number.
You can read much more about Etihad's different products and their points pricing in the guide below.
Have you booked an Etihad award through AAdvantage? What was your experience like?
*Supplementary images courtesy of respective airlines and alliances
Got AAdvantage miles? Here's why you may want to use them on Etihad flights soon
was last modified:
March 27th, 2019
by